Ambiance Coating is manufactured in state-of-art plant in Hyderabad. The company manufactures and sells superior quality and permanent finishes like Wall Cement based Care Putty, Interior Primers, Exterior Primes, Tile Adhesives, water proofing, Epoxy grouts, Sealers, Efflorescence cleaners , crack fillers, plasters, Brick Block Adhesives etc which are suitable for both exterior and interior applications in Apartments, Houses, Commercial, Complexes, Buildings, Theatres, and Institutes etc. At present Our business through Distributor network and direct selling.
ACI 103
ACI 103 Adhesive To Fix The Vitrified Tiles, Ceramic Tiles And Natural Stones Which Which Is Suitable For Internal Walls And Floars. The Product Comes In A Dry Power Single Pack System.It Is Made Of Natural Minaral, Inorganic Fillers, High Quality Ploymers, Cememt Etc. It Keeps Its Strengths For Years Together.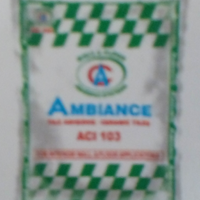 Mixing
Add 6-7 Liter of Water into The Clean Tub. Andf Then Under Mixing (Mix either by hand after wearing gloves to hands to avoid irritation or with a slow speed mixer to make the dough smooth, consistency and free from lumps) slowly add supplied adhesive powder. Allow dough to react for 10 minutes . Add Water Based on consistency if necessary. Select ther notched trowel on the title size for dough application.
PRODUCT DETAILS
Product Code :ACI103.
Color: Grey.
Pack Size:20kg & 50Kg.
SURFACE PREPARATION
All Surfaces Should be Leveled, Clean , Structually Sound , Normal Absorption (cured surface with water) And Free All Dirt, oil, grease, Paint, Concrete Sealers etc.
Ambiance Tile Adhesives: Click here for more details
Adhesives
MYK LATICRETE thin-set adhesives which have high bonding strength can be used for renovations without the hassle of breaking the existing tiles on the floor or wall. Tile or stone can be directly fixed with MYK LATICRETE thin-set adhesives without fear of de-bonding. MYK LATICRETE thin-set adhesives are manufactured under stringent quality control procedures to ensure world-class products that have been globally proven and professionally endorsed for years. Areas of usage: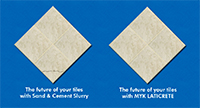 Grouts
Grouts are tile joint fillers for the space between adjoining tiles laid either on the floor or walls. Traditionally, and even at most sites today, tiling is done by placing tiles close to each other without using grouts. Traditionally white cement is used to fill the tile joints. White cement easily breaks down due to daily maintenance which leads to dirty/ stained tile joints, water seepage and growth of fungus/ bacteria.
To overcome these problems, MYK LATICRETE has introduced an innovative range of grouts which provide stainfree tile joints, are acid/ chemical resistant, non- cracking or powdering, anti- fungal & anti- bacterial.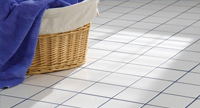 Advantages
Easy to apply
Stainfree tile joints
Non - cracking or powdering
Anti- fungal & anti- bacterial
Available in range of 40 colours to suit your tile colour
Acid/ chemical resistant (epoxy based grouts only)
Grouts: Click here for more details